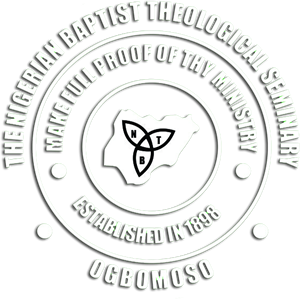 Nigerian Baptist Theological Seminary
"Make full proof of Your Ministry" (2 Timothy 4:5b)
Apply Now
Visit Campus
Click here For Background History
Background History
The beginning of the Nigerian Baptist Theological Seminary (NBTS), Ogbomoso, Nigeria, can be traced back to the closing years of the nineteenth century. Recognizing the need for education and leadership training among converts, Rev. Charles Edwin Smith, a missionary of United States of America, started a Preachers'Training Class in Ogbomoso, Nigeria for Baptist Mission Station workers on May 3, 1898. A two-storey building was completed for the Baptist Training Institute? in 1902 and within two years, about thirty students were trained by Rev. C. E. Smith, J. S. Compare, and N.D. Oyerinde. From its beginning until 1920, the institution had a peripatetic existence, being located in Ogbomoso until 1904, then in Abeokuta (1904-1905), again in Ogbomoso (1906-1914) and later in Saki (1914-1919). During these years, the leadership of the school changed thirteen times. From 1920 until 1936, theological training was administered as part of the Baptist College and Seminary in Ogbomoso. Dr. J. C. Pool joined the staff of this institution in 1934, with special responsibilities for theological training.
From 1936-1938, the Seminary section of the Baptist College and Seminary was located in Abeokuta. Since 1939, the Nigerian Baptist Theological Seminary has permanently been located in Ogbomoso while the Baptist College moved to Iwo. Dr. J. C. Pool served as Principal from 1934 until his retirement in 1970. Six basic courses were developed during his tenure as principal: degree (B.Th.); advanced certificate in theology (discontinued in 1972); certificate in theology; certificate in religious education (begun in August, 1962); curriculum in theology for Yoruba speaking students (discontinued in May, 1967); and a curriculum for students' wives.
In 1948, the Seminary was officially affiliated to the Southern Baptist Theological Seminary of Louisville, United States of America. By this arrangement, qualified students trained in Ogbomoso Seminary who have been granted degrees were awarded in 1950, the graduands having satisfied the requirements for graduation in 1948, thus making the NBTS, Ogbomoso to become the first tertiary institution to award degrees in Nigeria. The Seminary (NBTS began its Bachelor of Religious Education Programme in 1970, conferring the first degree in it in 1973. Presently, the Seminary awards diploma in Women Ministry and in Church Music, graduate and postgraduate degrees in theology, religious education, church music and missiology.
The Seminary became a postgraduate school with effect from August, 2002. With this new status, the Seminary now concentrates on post-baccalaureate and postgraduate programmes. However, the Seminary will still continue to offer undergraduate courses for which facilities do not exist in other Baptist theological institutions, e.g. all church music courses, missions' courses and religious education courses. Similarly, all the Baptist Colleges of Theology in Southern Nigeria, i.e. in Benin City, Eku, Obinze-Owerri, Lagos and Oyo operating under the proprietorship of the Nigerian Baptist Convention were affiliated to the Seminary with effect from the 2002/2003 academic session for proper co-ordination and quality control of their theological academic programmes.
Administration, chapel-library, and classroom buildings, presently used by the Seminary, were first occupied in 1955. A new administration building was completed in 1972 and an annex to the library was occupied in August, 1973. A new Pre-School Religious Education Centre building was occupied in July, 1975 with an additional extension in 2007/2008. The Music and Communications Building opened in 1979 and the Mass Media building was completed in 1981.
In the decade of the seventies, two significant events occurred in the life of the Seminary. During the inauguration service of Dr. C. F. Whirley, who served as Principal from 1970 to 1979, the Nigerian Baptist Convention (NBC) was formally recognized as proprietor of the Seminary. Then, in 1979, Dr. (Now Professor) Osadolor Imasogie became the first Nigerian to head the institution. His inauguration as Principal (which later became President) on August 18, 1979 received international attention among Baptists.
The decade of the eighties witnessed increasing support of the Seminary by the NBC and growing international recognition of the Seminary. The NBC began giving grants for capital expenditures which resulted in two new staff houses in 1980, additions completed in 1983 to all of the apartments for married students, an additional staff house in 1984, and annual grants for other purposes. An addition to the Administration Building is financed from the Seminary Endowment Fund proceeds-was completed in 1984.
Graduate of the Seminary have made excellent records in graduate schools in Africa, Europe and America. Fifty-five percent (55%) of all degree graduates since 1971 up to the end of the eighties have undertaken higher studies. The Seminary's long-range faculty development programmes have begun to yield results. Some of the Nigerian faculty members with Ph.D. are being added to the faculty periodically.
The decade of the nineties witnessed the following new programes.
Bachelor of Arts (Religious Studies) of the University of Ibadan
Master of Divinity (M.Div.)
Master of Divinity in Religious Education (M.Div.R.E.)
Master of Divinity in Church Music (M.Div.C.M.)
Master of Theology (M.Th.)
Master of Theology in Religious Education (M.Th.R.E.)
Master of Arts in Theological Studies (M.A.T.S.)
Doctor of Ministry (D.Min.)
Ph.D. Programmes in Theology and Religious Education
New programmes appearing in this particular edition of the Seminary Catalogue are:
Some specializations of Master of Arts: Biblical studies, Religious Education, Church Music and Youth Ministry.
Master of Philosophy in Christian studies.
Master of Theology in Intercultural Studies
The following ancillary education programmes have also been put in place during this decade:
Staff Primary School
Smith International Baptist Academy (SIBAO)
French Language Resource Centre
Computer Training Centre
Facilities (structures) put in place include a multi-storey single men dormitory, Health Clinic, Business Centre, Petrol Station, an eight-classroom block (for the Staff Primary School) and a secondary school classroom building complex for Smith International Baptist Academy (SIBAO).  Some other recent addition to the buildings and other facilities in the campus are:  Construction of campus road, network (2007); administrative block for bursary/accounts (2003) and Business Centre building (2007); Imasogie, Obaje and Ilori (2005) and Whirley hall (2012) at the Guest House and phase 1 of postgraduate residential hall (2015).
It is pertinent to add that the end of the decade of the nineties marked the end of the Southern Baptist Convention's (USA) century-long financial and personnel assistance to the Seminary. The decade also witnessed the almost 100 percent Nigerianization of the teaching and administrative staff of the school.
The beginning of the second century of the existence of the Seminary witnessed the addition of the Doctor of Ministry (D.Min.). A Doctor of Musical Arts (DMA) was proposed and approved, thus making the Seminary to be in a position to offer all postgraduate degree programmes in theology, religious education, and church music.   The appointment of a third indigenous President with effect from July 1, 2003 was approved by the Nigerian Baptist Convention, the proprietor of the Seminary. He is Reverend Professor Joseph Abiodun Ilori. He succeeded the former President, Reverend Professor Y. A. Obaje, who completed his tenure of service on June 30, 2003. Prof. Deji Isaac Ayegboyin served as the fourth indigenous President of the Seminary in 2008-2015.  The fifth and current President is Dr. Ezekiel Emiola Nihinlola whose leadership tenure started in July 2013.
RECREATIONAL ACTIVITIES:
The Seminary provides recreational facilities for the students. Football is the activity which draws the most enthusiastic response, especially with the internal cup competitions. The Seminary team practices regularly and plays football matches with other theological institutions. Other recreational activities for which the Seminary provides regularly are volleyball, lawn tennis, and table tennis. There is also the 'pagoda' which is a relaxation centre located close to students residential area.
A Student Activity Building is adjacent to the students' residential areas. This is utilized for indoor games, social events, Students' Executive Council and student-body meetings. There is also a Student Administrative Building near the academic area.
SOCIAL ACTIVITIES:
Film shows, social, personal, and faculty enrichment programmes and other campus-wide activities are scheduled regularly by the Seminary for the entire Seminary family.
SEMINARY CHOIR:
The "Singing Seminarians" is a choir for men and women of the Seminary family who enjoy singing and who meet simple entry requirements. Efforts are made to broaden the musical education of the students through this organization. Songs and choruses of many countries and tribes are taught and music of different types and styles is sung. The choir records for radio and television, participates in chapel services, musical programmes and other special occasions on campus and elsewhere. Other musical groups are encouraged and regularly utilized on and off campus.
Student Government Activities: As in other higher institutions of learning, students in the Seminary have a part to play in the administration of this institution. There is a Student Body President who, with the help of the Student Executive Council, serves as a liaison officer between his fellow students and the faculty through the faculty's Students Affairs Committee. The Student Council is composed of student-elected officers and committees who are elected annually. This Council seeks to know the needs and concerns of the entire student-body and to communicate these to the faculty (now serve) through the appropriate Senate Committee. Through such participation, the entire student-body helps the Seminary become a happier community in which to live.
LIBRARY
The James Christopher Pool Memorial Library houses 73,000 volumes for circulation and reference. The collection is being continually updated and enlarged. A unique contribution to learning resources for the students is the availability of an additional 38,000 books regularly updated for use as texts. Texts may be loaned to students for one semester at a time for use in specific courses. Students are also provided with approximately 213 journals and periodicals as well as major research tools. A small collection of Africa antiquities is also housed in the library. The Library has an enlarged Learning Resources Centre which includes a large projection room, conference/preview room, work room and store room for the provision and utilization of audio visual resources for students and faculty.
Baptists and others are encouraged to send to the library materials of historical, theological and educational importance. Especially useful are church histories, programmes of church and associational activities, minutes of meetings of Baptist organizations and conferences, and other primary documents of religious significance.
Two significant special collections in the library are the Cecil F. Roberson Collection of materials relating to Nigerian Baptist history and the Emmanuel Ajayi Dahunsi Collection comprising of New Testament, Greek, and other theological works from the library of the late Rev. Dr. E. A. Dahunsi, former General Secretary of the Nigerian Baptist Convention, Bible translator and Professor in this institution.
The T. A. Reid Memorial Music Resources Centre, housed in the Music and Communications Building, provides audio and print resources, musical scores and instruments for use in developing programme of music instruction.
ANCILLARY EDUCATION PROGRAMME
Today, the Seminary has, in addition to its Pre-school Religious Education Centre (PREC), a staff primary school and a secondary school (Smith International Baptist Academy, named after the founder of the Seminary, Charles Edwin Smith). These three education enterprises are administered as the Ancillary Education Programme and are being jointly managed by the Ancillary Education Management Council. The goals of the Seminary in setting up the three educational programmes are as follows: (1) To provide qualitative Christian Education (2) To assist the children to imbibe Christian virtues, values, character and way of life (3) To develop in the children their God-given potentialities for law, medicine, sciences, etc. (4) To prepare the children for life.
HIGHLIGHT
Pre-School Religious Education Centre (PREC): The Preschool Religious Education Centre (PREC) provides age group learning areas for pre-school children while their parents attend Seminary classes. A variety of experiences is provided to help the child grow spiritually, emotionally, intellectually, physically and socially. The child is encouraged to learn and develop at his own rate or speed and think in his own way. Each day offers many opportunities for the child to play, investigate and express himself through language, creative art, music, science, and Christian education activities at a pre-school level.
Rooms are equipped with appropriate furniture and educational learning materials. Play grounds are outfitted with age-group outdoor play equipment. The schedule is flexible and free-flowing. The atmosphere is relaxed and unhurried with one activity flowing into the other in regular sequence in accordance with the child's pace and interest. The curriculum is developed in keeping with the interest and needs of the child to provide stimulating learning experiences in Christian context.
The child must be six months old prior to being enrolled in the youngest group. His promotion or enrolment into a more advanced group is determined by the teacher on the basis of his chronological age, his development and his total adjustment to the PREC activities. Prior to enrolment, a medical report signed by the child's physician must be provided, stating that the child is well and physically able to participate in the PREC programme and that required immunizations have been received. The PREC is used also for demonstration purpose. Parents, students and church teachers may be allowed to observe and gain practical experience in methods and organization of Preschool Christian Education.
French Language Resource Centre: The French centre is a part of the Ancillary Education Programme of the Seminary. At the centre, postgraduate students study French language –basic French grammar, vocabularies, civilization and culture. They are involved in oral evaluation through audio recording of preaching, singing, etc. in French. Students are awarded certificates of participation at the end of the training programme. Other categories of students who study at the centre are undergraduate students of the seminary, wives of student pastors, students of Smith International Baptist Academy, NBTS Staff School, and Ladoke Akintola University of Technology, Ogbomoso. The government of Republic of France initially provides some learning resources for the centre. The school of French language is coordinated/directed by a qualified French teacher.
FINANCE
In recent times, sources of finance to the Seminary include Nigerian Baptist Convention grants, tuition and other charges, general gifts from individuals, churches, associations and conferences, and designated gifts which are aids in kind. Even when a cash grant is given, it is usually for specific purposes such as sinking of boreholes or financing part of, or a whole project.
Occasionally, gifts still come from the Southern Baptist Convention churches and individuals. SBC also provides limited number of personnel to serve in the Seminary. The Baptist General Convention of Texas (BGCT) also provides short-term faculty and financial assistance.
The Nigerian Baptist Convention grant usually makes up a substantial fraction of the total revenue. The grant is usually budgeted by the Convention and it is released on a monthly basis throughout the year. General gifts and financial aids are also received from "Friends of the Seminary." Unlike designated gifts, financial aids of this category are received throughout the year from individuals, churches, associations and conferences in Nigeria.
CONTINUING EDUCATION
Aware of the growing need for adult Christian to make learning a life-long process, the Seminary has undertaken a programme of Continuing Education to aid the professional leaders and interested laymen in Christian ministry. This programme is designed to help update and expand the theological education of ministers and to utilize the Seminary's resources to deepen insights and improve skills of lay leaders through specialized training.
The Seminary's Continuing Education programmes are now run under the Department of Community Education and such courses are organized during long vacation (as sandwich programmes) and minimesters. A number of such short-term courses, workshops and conferences are offered for credit for those who qualify; non-credit courses, workshops and conferences are also being offered for church leaders and those seeking to improve their leadership skills and to grow toward Christian maturity. Using a variety of approaches on various academic levels, these special courses provide a setting for intensive study of contemporary issues and developments, which confront the church in today's world.
Ministers' Conference
An annual one-week conference for pastors, ministers and denominational workers is conducted each September by the Seminary. This week is designed as continuing theological study for former students. It is organized annually with fourfold objectives: it is a retreat for renewal of gospel ministers in spirituality and fellowship, it is a continuing education programme to update academic and professional knowledge of alumni, and others in gospel work, it is a workshop/seminar to equip and strengthen the ministerial skills especially leadership, relationships, communication, and counseling. denominational emphasis It deals with contemporary ministries and practical problems of the ministry through bible study, lectures, revival messages, practical discussion and prayer sessions. Current Seminary students participate in all the sessions.
ALUMNI:
Alumni assist the Seminary in enlisting new students, and are encouraged to forward information about candidates for Christian ministry to the President or Registrar of the Seminary. Increasingly, alumni are helping to encourage churches and groups of churches to provide financial support for their own sons and daughters or for other needy students during their studies at the Seminary. Alumni are of significant help as the Seminary seeks to aid new graduates in securing place of service, and in providing information to churches and other prospective employers concerning its graduates. Alumni also help the Seminary to raise funds and give financial support to it.
Through the years, the Seminary has drawn students from numerous African countries and a few from the United States of America. Many graduates have studied for higher degrees in Nigeria and other African countries as well as in Europe. America and Asia. Multitudes of these alumni have held responsible positions in various Baptist bodies at the associational, conference, and national levels in Nigeria, in the Christian Council of Nigeria and other non-denominational and inter-denominational bodies. Most of the alumni are pastors, but an increasing number of them are chaplains, teachers and educational workers and denominational leaders.
Each year, the Alumni Association has an annual meeting at the time of the Ministers' Conference held at the Seminary. This meeting affords an opportunity for information and discussion of matters of common interest to the alumni and the Seminary. All alumni are encouraged to actively participate in the Alumni Association. The Seminary appoints an Alumni Relations Officer to handle and promote alumni matters and interests.