MAKE FULL PROOF
OF YOUR MINISTRY
REV. PROF. EMIOLA NIHINLOLA
The President
"Make full proof of your ministry" (2 Timothy 4:5b)
The Nigerian Baptist Theological Seminary, Ogbomoso functioned as an overseas campus of The Southern Baptist Theological Seminary, Louisville, Kentucky, USA since its inception in 1898 till 2000.  During that period, the curriculum of NBTS was patterned after that of the mother American Seminary. The curriculum has however been revised, Africanized, contemporized and printed in past editions of Catalogue. The result is a curriculum of international standard and contextual relevance.
How to Discover God's Will
African Homiletics Society Conference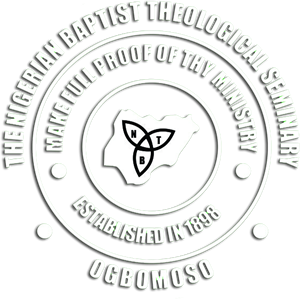 BRIEFLY ABOUT US
"Make full proof of Your Ministry" (2 Timothy 4:5b)
The Nigerian Baptist Theological Seminary, Ogbomoso, Nigeria grew, like a mustard seed, from what started as a "Preachers' Training Class" on May 3, 1898 to become a citadel of theological education – the best of its kind on the continent of Africa. The Seminary is an academic institution, providing high-quality theological education and professional training for God-called men and women to help meet the need for effective leadership in the work of churches, schools and the denomination not only in Nigeria but also in other parts of Africa. 
This year's ITEC held from the 7th to 9th March 2023 with the theme: Integrity and Honour in Contemporary Christianity. The rationale behind this theme is to encourage Christians at whatever level or field of operation to imbibe integrity and honour in their Christian...
read more