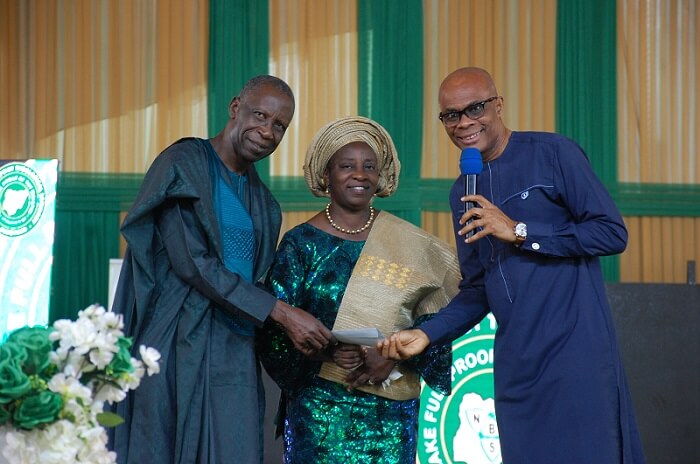 September 12, 2023, could be said to be a divinely ordered, glorious day, a day of cumulative celebration, the day the LORD made, wherein His people rejoiced and were glad. It was a day of joyful celebration as the crème la crème of Nigerian Baptist Convention, and other great men and women in the society gathered with pomp and pageantry to rejoice with Rev. Prof. Ezekiel Emiola Nihinlola, scholar leader and a great scholar par excellence, on the three-in-one occasion of his birthdate celebration, Appreciation and Retirement service.
Pleasant emotions filled the air throughout the service which was one of joy, recognition of selfless service and celebration of success. From the call to worship to the singing of the inspirational song "Blessed the LORD Oh My Soul" Medley by NBTS choral Ensemble to singing of hymns (including the celebrant's favourite, 'Its Not an Easy Road') to the celebrant's impressive citation enthusiastically and professionally read by Dr. Folashade Oloyede; to encomiums from the Governing Council as led by Rev Dr. Dele Oluwole, the Registrar of the Nigerian Baptist Theological Seminary, Ogbomoso; and more, it was a glorious service.
Taking his scripture reading from Psalm 23, the Convention President Rev Dr. Israel Adelani Akanji delivered a message titled "The LORD is my Shepherd". He charged the celebrant and well-wishers to see, not situation, achievements, status or prestige; but the LORD as Shepherd. He stressed that Prof. Nihinlola should depend on God as his sufficiency so he won't be in want for comfort, righteousness, power, provision, or dwelling place. He made it clear that God would  reward Prof. Nihinlola beyond his expectations and beyond what any man can reward him with. Beyond the message, there was a special prayer for the Celebrant and his family as well as the usual birthdate songs and time for dancing and thanksgiving to God.
A high point of the celebration was the presentation of two awards, Outstanding Leadership Award and Exemplary Leadership Award to Prof. Emiola Nihinlola. Well-wishers also had opportunity to praise God, to identify with the Nihinlola family and to give gifts. Notable also was the presentation and launch of the book in honour and appreciation of the selfless and excellent service of Rev Prof Emiola Nihinlola titled; The Church, Christian Education and the Future. The service was rounded off with hymn singing, the celebrant's response and prayers
Indeed, the celebration of Rev. Prof. Ezekiel Emiola Nihinlola typifies the prayer and desire of every servant of God to reach the pinnacle of their ministry and to end their service with impeccable records, honour, rewards, recognition and appreciation of all and sundry.
You may watch the retirement service here
Olusegun A Adegboye- Reporting for NBTS Advancement