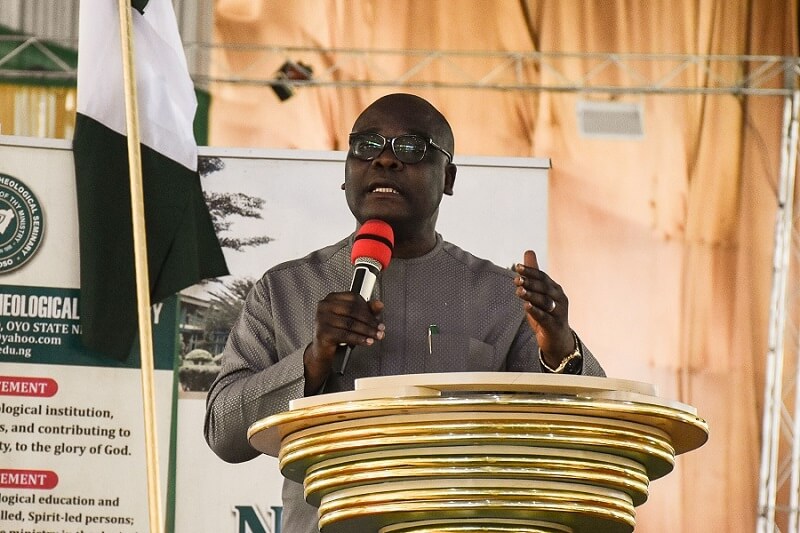 It was a beautiful day of colourful national attire worn by people all over the compound of The Nigerian Baptist Theological Seminary (NBTS) Ogbomoso. Some who were regular 'wearers' of Western wears were dressed in various national attires. Non-Nigerians were not left out as some Cameroonians and other nationals appeared in their national wears. Members of the community showed up at the event dressed in cultural attire representing the various ethnic groups across the country(ies). It was a gallant display of beauty in diversity. While there was beauty on the outside, a number questioned in their minds "What is there to celebrate in Nigeria?" Yes, it was Nigeria's annual national day celebration in NBTS, Ogbomoso.
The National Day Service is one of the highlights on the NBTS annual calendar. It is a time the NBTS community gathers with focus on our country, Nigeria. It also ushers in the annual 'long weekend break' in the Seminary. While the question on whether celebration was worth it lingered, hidden for some; obvious in the look of others; the programme provided answers in its own way.  People in attendance joyously sang praises to God, singing from different tribes and tongues, dance steps and drums from various parts of Nigeria and Africa. The Acting Doves, NBTS's drama group ministered in drama, reminding all that the Nigerian situation may be debated; may look lifeless and like a time-wasting venture; but that it is not hopeless, if everyone would play their part. The Choral Ensemble also gave an inspiring rendition of "Shine Jesus Shine," asking God for His light to light up our dear nation.
The Guest Speaker for the day, Rev. Dr. Edward Kehinde Alabi; Pastor of Molete Baptist Church, Ibadan delivered the National Day lecture titled "Ethno-Religious Politics and the Nigerian State: Implications for National Development." The subject matter and delivery of the speaker made it an interesting session which roused resounding reactions from the audience. Among several key recommendations, he encouraged more involvement of the Nigerian Baptist Convention and the Seminary in politics. He explained that politics is not a dirty game but a game of power and influence, and that power is fought for. He concluded, recommending that Nigeria's democracy should be based on meritocracy and not "sentimentocracy".
The programme would have been incomplete without prayers for the nation, touching on different aspects of her existence. Various Faculty members led in this prayer time as many joined in prayer with zest and renewed hope. In response to the question on many minds, "What is there to celebrate in Nigeria?" the National Day Service provided a reminder that with God at work, systemic changes made, and Christians getting involved, the nation can take a positive turn. We can expect a bright tomorrow. Happy hopeful independence, Nigeria!
By Gamaliel Akinsola for NBTS Advancement Centre