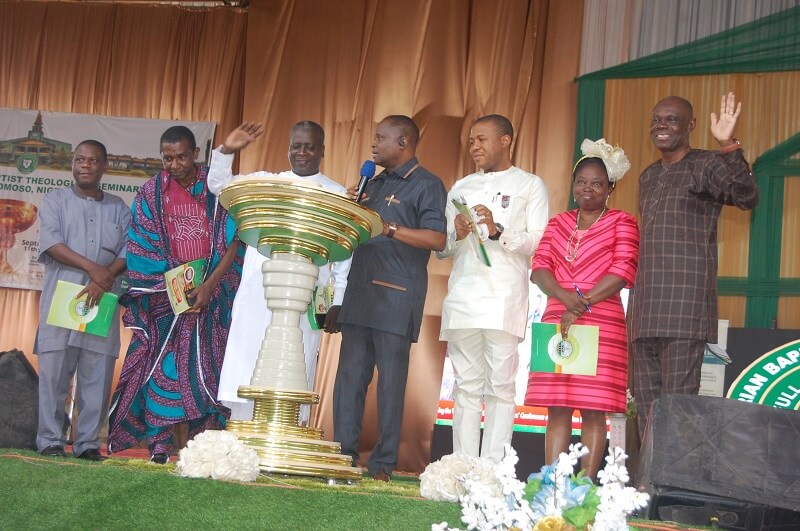 The third day of the 2023 Ministers' Conference at the Nigerian Baptist Theological Seminary, Ogbomoso, with the theme "Vessel of Honour," commenced with a rich African praise session led by Seminary music team and an opening prayer led by Dr. Felix Adejokun. The Alumni Celebration, presided over by the President of the Alumni body, Rev. Dr. Nkem Osuigwe included a short challenge, gratitude, reports, fundraising and other items.
Dr. Dickson Madoghwe, the Vice President Ministerial of the Nigerian Baptist Convention, gave a short challenge titled "Honourable versus Dishonorable Vessels in Pastoral Ministry." Drawing from the theme text, 2 Timothy 2:14-26, he urged ministers to engage in self-evaluation, readjustment, and spiritual renewal. Dr. Madoghwe highlighted the distinction between honourable vessels, who are valuable and durable in their impact, and dishonourable ones, who lack commitment and authenticity in their ministry. He encouraged ministers to prioritize their calling, avoid distractions, and remain faithful to their divine purpose. His charge concluded with prayer for all alumni and the Baptist Convention.
Dr Nkem Osuigwe had earlier appreciated the dedicated Alumni executive members for their selfless efforts in ensuring the success of this year's conference, especially for the completion of the Alumni Multipurpose hall to be used for the first time in its entirety, among other things. Financial and auditor's reports, for the fiscal year ending in July 2023 were presented and unanimously accepted. Also, updates from the Alumni Relations Officers were shared, followed by discussions and various motions. A prominent item on the agenda was fundraising, with the Alumni President emphasizing the importance of completing the Multipurpose Hall project that commenced 19 years ago. Alumni members were encouraged to contribute generously to this project, which involved tasks such as floor tiling, window installation, and decking of the office area. A target of 20 million naira was set, and various sets of graduates, alumni from various years enthusiastically contributed. Notably, the 1991 set, which included the Seminary President, Prof. S. Ola Ayankeye, donated N500,000, while the 1993 set, led by the Seminary Registrar, marked their 30th anniversary with a generous donation of N1 million. Several other sets also made substantial contributions and pleddges towards the project.
A nomination committee gave their report on new and returning officers of the Alumni body. Both Dr. Nkem Osuigwe and Rev. Dr. Gabriel O. Adebayo were nominated to return as Chairman and Vice Chairman respectively for a second term until 2025. The Secretary's position was filled by Rev. Dr. Justin Okoroji Junior and Rev. Dr. Gracious Okoronkwo was elected Assistant Secretary for the first term until 2026. Other officers still serving include Rev. Dr. Adetayo Adeyanju as Alumni Relations Officer and Rev. Jeremiah Kayode Joshua as Auditor (both continuing first term), Dr. Sunday Oyeniran as Building Committee Chairman (continuing second term) all until 2024; Rev. Dr. Omolara Area as Treasurer, Rev. Dr. Olufemi Ojo as Financial Secretary (both completing their second term in 2025) and Rev. Dr. Joseph Onuche as Public Relations Officer (first term) until 2025.
Following a brief intermission, the focus shifted to an exploration of the theme text through Bible Study led by Rev. Dr V.S.A. Dada, who taught on "Vessels for Honour." He defined the concepts of vessels and honour, emphasizing the importance of teaching the correct word of God as a key means to combat heresy. Dr Dada urged attendees to emulate the New Testament model of priesthood by fully demonstrating their ministry, avoiding distractions, and continually advancing in their spiritual journey. He stressed the need to preserve the honour of the ministry by valuing and making sacrifices for it. Key in the teaching was his emphasis that 'the container is not the most significant thing but the content in it. It's the content you carry that makes you a vessel for honour.'
The morning session concluded with a question-and-answer session, where ministers had the opportunity to seek clarification, followed by a closing prayer and benediction.
Watch the Alumni Celebration here
By 'Debo ODUNLAMI