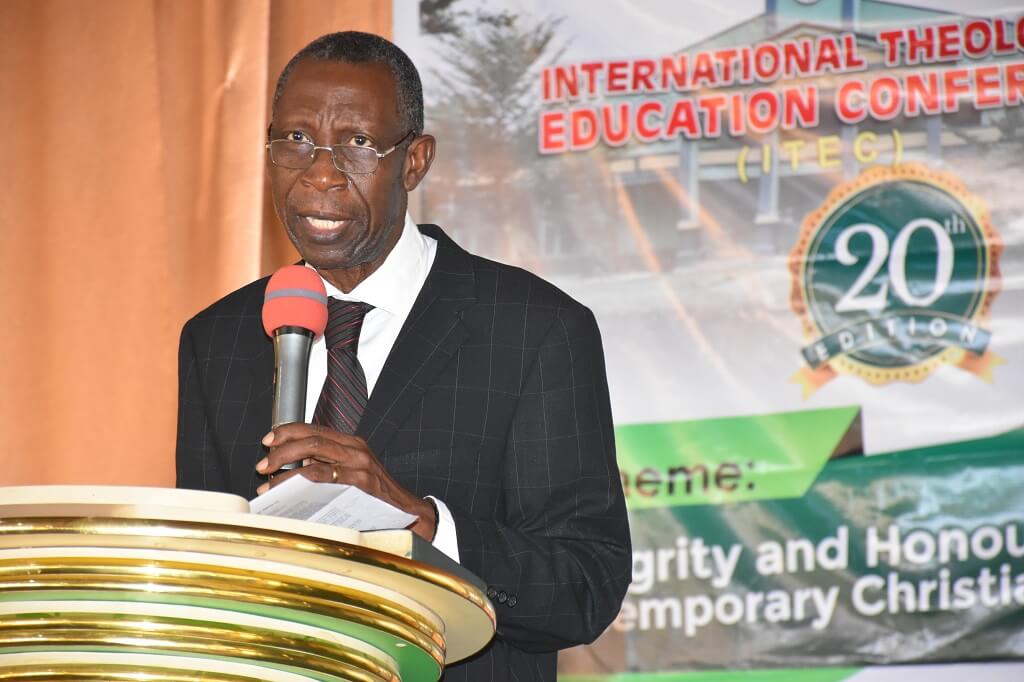 This year's ITEC held from the 7th to 9th March 2023 with the theme: Integrity and Honour in Contemporary Christianity. The rationale behind this theme is to encourage Christians at whatever level or field of operation to imbibe integrity and honour in their Christian living considering the rate of unrighteousness, immorality, and denial of faith in the contemporary time; thus, promoting Christian witness in the society.
A number of students, lecturers and other stakeholders participated onsite and online. Erudite scholars from different disciplines presented papers on topics such as, "Maintaining Standard of Theological Education" by Dr. David Tarus, the Executive Director of ACTEA, Nairobi, Kenya; "Academic Integrity in Christian Higher Educational Processes" by Prof. Oluwatosin Atobatele from Bowen University, Iwo; "Integrity and Honour in Practical Christian Ministry" by Revd. Drs. Jide and Doyin Abimbola, Liverpool, UK and "Theological Institution as a Labour Room Giving Birth to Ministers with Integrity" by Rev. Prof. Emiola Nihinlola, the President NBTS. There were also small group presentations on different topics of interest revolving round integrity and honour in Contemporary Christianity. The following are highlights of recommendations from the presentations made at the conference as compiled in the communique committee report.
Church
The church should properly educate her members on how to be involved in impactful politics by organising training programmes like workshops and conferences from time to time. Church leaders/workers should exemplify integrity in such areas as financial transparency, sexual purity, marital faithfulness and conduct (1 Tim. 3:1-4) as well as building emotional integrity in Christian ministry.
Theological Institutions
Theological institutions should keep emphasizing spiritual formation and transformation as well as relational discipleship/mentoring of students. They should uphold integrity by ensuring that they appoint academic and non-academic staff who will demonstrate Christian virtues.
Theological educators should be role models and not tolerate ethical misconducts as well as strike a balance between discipline and restoration. They should also cooperate with churches in enhancing character and ministerial formation.
Christian Educational Institutions
Christian education should aim at developing total personality of individuals. Teacher-student interaction should go beyond the classroom experience, relational teaching should be emphasized.
Civil Service/Market Square
Christ-like attitudes should be exemplified in work places. Bribery, corruption and other vices should be avoided by Christians in work places.
Judiciary
The stakeholders in the judicial sector should uphold integrity i.e. justice without bias.
Transitional Process
Leadership transition at all levels should follow due process and there should be transparency in all aspects.
Conclusion
As the world groans and waits earnestly for the manifestation of God's children, it is expedient that Christians arise, shine the light of the gospel through integrity and honour in their daily Christian living and deliver the groaning world.