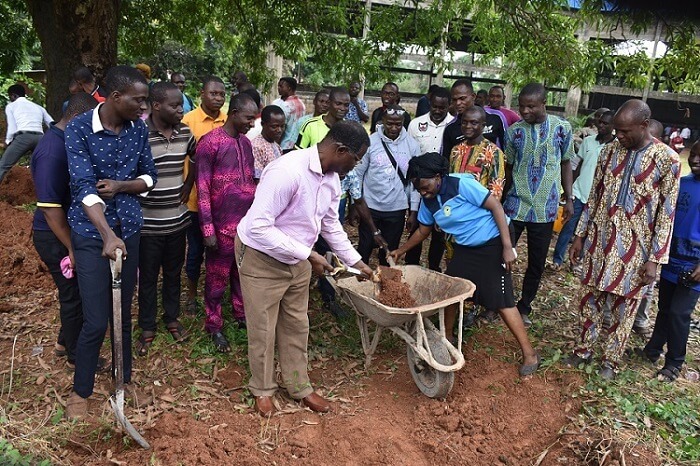 The event of Tuesday, 22nd August 2023, was a demonstration of the beautiful NBTS community spirit. It was kick started with a request from the Seminary President for all members of the community to partake in the ongoing building project at the Multipurpose Hall during the Matriculation Service on Monday. Students were encouraged to come with work tools to move the sand needed for the levelling of the ground at the hall. The period for the work was divided across various academic programmes.
Eagerness of people to work was evident as there were people on ground before 3 p.m. The Women's Training Centre students, diploma and degree students were assigned to begin the work. They were to hand over to the Master of Divinity students and they, in turn to the Research Masters and doctoral Postgraduate classes. The turnout was significant and many stayed long beyond their allotted time, focused on getting involved and playing a part in the work. Everyone wanted to play a part: male and female students, staff and even children with the community took turns working. The faculty was also fully represented.
The site was graced with the presence of the Seminary President, Rev. Prof Stephen Ola Ayankeye who also shoveled some sand; the Deputy Presidents (Administration and Advancement), Doctors Yeside Odiase and Olusola Ayo-Obiremi; the Registrar, Dr Dele Oluwole, Deans, Heads of Department and lecturers. Several of them got their hands dirty, joining in moving the sand and ensuring its proper distribution at the site. Due to the lively atmosphere, the task at hand felt like light work as people repeated the journey to and from the site several times with their buckets, pans, wheelbarrows and even cartons in hand.
By 4:30 p.m., when the President called for the exercise to end, many were still willing to keep going. The President thanked the community for turning up, assuring everyone they had served as a part of history and leading the group in prayers. This community exercise was indeed a display of the power of unity. It showed how much could be achieved when the NBTS community comes together.
Gamaliel Akinsola, MDiv 3 – Reporting for NBTS Advancement.