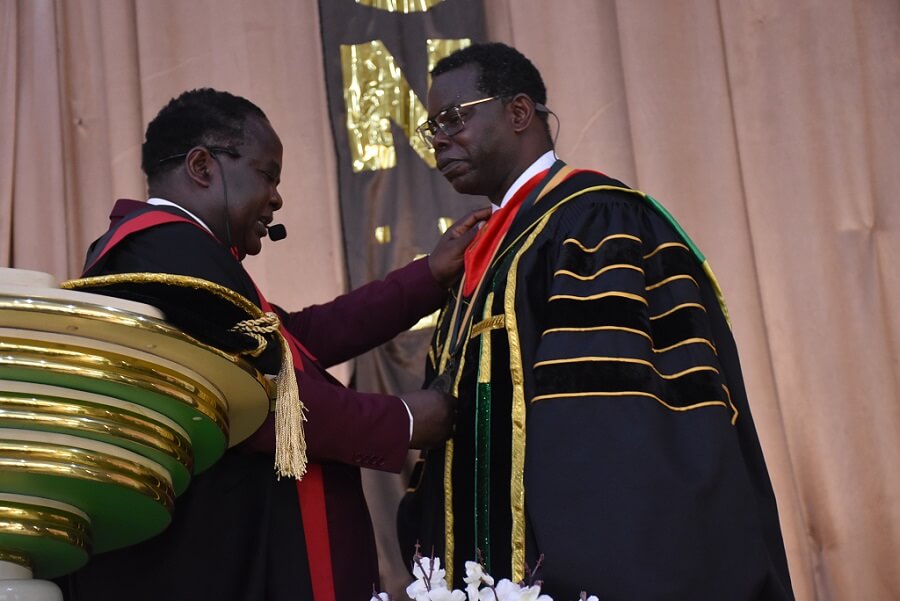 It was a memorable epoch at the Nigerian Baptist Theological Seminary Ogbomoso on the 18th of August 2023, when Rev. Prof. Stephen Oladele Ayankeye who took over the mantle of leadership from Rev. Prof. Emiola Nihinlola from July 1 2023 was inducted as the president of the seminary.
The induction service was held at the NBTS multipurpose hall by 10:00 am, with all worship and thanks to God for the privilege to experience such a significant service which comes only once in a while; the last one held was 10 years ago.
The citation of the new president was read, and he was presented for induction by the registrar Rev. Dr. Dele Oluwole. The chairman of the NBTS Governing Council, Dr. Sarah Alade OON, charged the new president to be faithful and commended him to God and His grace.
Rev. Prof Stephen Ayankeye was inducted as the NBTS President by the Nigerian Baptist Convention (NBC) President Rev. Dr. Israel Adelani Akanji. He dressed the NBTS president with a medallion and presented the certificate of induction to him. Thereafter, Pastor Prof. Kassey Garba (a member of the NBTS Governing Council) presented the Bible to the newly inducted president.
The President gave his maiden address titled "Consolidating the Mandate of the Nigerian Baptist Theological Seminary, Ogbomoso: The Risk, the Task and the Target." According to him, "taking over the leadership of a theological institution that is over 125 years old from highly successful predecessors is a risk." Nonetheless, the task remains being a team leader encouraging staff and students to develop under the guidance of the Holy Spirit and authority of the Scripture toward training God called persons into the gospel ministry in various settings; thus steadily advancing a seminary where the historical foundation of preachers' training will not be jettisoned, and reaching the sole and ultimate target of achieving the God-given dream and vision of the seminary.
NBC President Rev. Dr. Israel Adelani Akanji preached on the topic: Being a Head taller than Others: Responses to Leadership from 1 Sam 10:17-27, followed by prayer of dedication led by Rev. Dr. Dickson O. Madoghwe (NBC Vice President Ministerial).
You may watch the induction service here